Do all Japanese language schools seem the same to you?
If you're having trouble deciding which Japanese language school is best for you, we've put together a short list of tips that will help. Especially as a beginner, it can be difficult to determine the key differences between each school.
If you are new to the study of Japanese, the first school you go to will have a huge impact on the way you learn the language. The early stages of your studies are what form the foundation for your future mastery of Japanese. Once a school has been chosen, the average learner studies in that environment for 2 to 3 months at least – and usually for 6 months up to 2 years. It is important that you make your school selection carefully. Find out if the course you are about to join meets your needs before you make a full commitment.
Guidelines to Help You Make a Decision
1. Think about your purpose for studying Japanese and what goals you want to achieve.
When your goals do not align with the school you are attending, you may spend many months studying and not be able to see the results you expected. One of the most common reasons why language improvements are not made at the pace they could be, is because at many schools students are hardly ever given the opportunity to actually speak Japanese. Regular interaction and daily practice is crucial to the study of any language.
2. Find out the ratio of Japanese vs. English in class.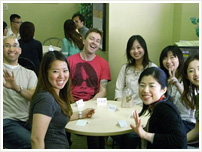 At most language institutions, beginners usually study Japanese in English. Although this method can seem to be more efficient at times, as a learner you don't hear or speak Japanese nearly as much as when you study everything in Japanese. By not studying in Japanese, one of the most important skills becomes abandoned and underdeveloped: thinking in Japanese. Learning Japanese in English also often causes students to experience a significant lack in their speaking ability.
3. Find out what reasons your fellow classmates have for taking the course.
Collaborating, working together, and participating in a friendly rivalry among fellow classmates is a key part of the learning process – and one that is often neglected.
Make sure your classmates have similar goals to yours and are motivated to learn the language.
4. Check how many students will be in the class.
The average number of students in any Japanese language course is 15‐30, and 50‐200 at university. The bigger the class size, the harder it is to practice speaking and interacting in Japanese, which is important in the study of any language if you want to advance your day‐to‐day communication skills.
What Kind of Japanese Language School is Aitas?
Learn Practical Japanese Communication Skills
Our courses are best suited to those who want to obtain practical Japanese communication skills: conversation skills, reading and writing (with equal weight placed in each learning area). Given the well‐rounded platform of the Aitas method, if you only want to know how to speak Japanese, then we probably aren't the right course for you.
Please read about Our Teaching Method, learn about Japanese Immersion, and enjoy our fun Manga Comic, to truly understand why you need to learn the Japanese alphabet, and why it's important to know how to read and write – from beginner levels all the way through to advanced.
Maximum Exposure to the Japanese Language
People who want to hear, read and speak as much Japanese as possible can benefit the most from Aitas. In all Aitas classes, the only language you'll see, hear and speak is Japanese. We use our proven "Aitas Immersion Teaching Method" which offers students comprehensive, easy‐to‐follow lessons at every level.
You're probably wondering how it's possible to learn Japanese without using a vehicular language. Read about our Our Teaching Method, find out more about Japanese Immersion, and browse through our fun Manga Comic to get a good feel for how we instruct our students.
Before you join a class, you can take a FREE Trial Lesson to see if Aitas has what you're looking for.
Adult Classes, Creative Approach, Positive Atmosphere
Most of the students who come to Aitas take our courses for one of the following reasons:
They are hoping to live in Japan in the future
They need to be able to use Japanese skills at work
They want to be able to communicate well with their Japanese family or friends
Aitas students tend to be highly motivated and they put a lot into their studying. More importantly, they encourage one another and learn from each other.
Aitas classes are catered to adult learners aged 21 and over. The average student age ranges from the late 20s to early 30s, with students as young as 21 and as old as their late 40s. We teach adult classes exclusively in an effort to establish synergy among all of our students in a learning environment that is serious and efficient, but at the same time friendly and enjoyable.
Smaller Classes with Greater Interaction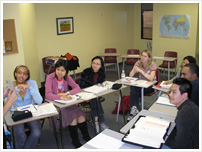 People who are looking for an interactive learning environment will benefit from Aitas more than those who prefer to sit back and listen, in a big class lecture setting. At Aitas, we strongly believe that the most important element to learning a language is "Practice, Practice, and Practice". We spend a lot of time practicing our Japanese communications in class. What you know and what you can actually use in your daily speech are two very different things. We tell all of our students not to be afraid of making mistakes and to practice speaking as much as possible.
Our classes are small and intimate so that each teacher can structure a highly interactive class properly, and at the same time have the ability to give each student the individual attention they need. AITAS class numbers are typically between 3 and 6 students, with a maximum of 8.
Does AITAS sound like the school for you?
Discover the reasons why we believe that you should study with Aitas.