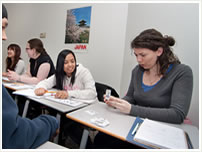 Choosing the right school plays a big role in how you learn the language of Japanese. Certain teaching methods will be more effective than others and before signing up anywhere, you should take the time to evaluate what is important to you.
At Aitas, we've spent many years researching various teaching methods and pulling key elements from the most successful techniques to form the Aitas Teaching Method.
Aitas provides all students with a complete learning experience. Over and above the essential academic element, Aitas offers you unique activities, valuable information and guidance services. We encourage the fully open communication of useful information among teachers and students and we are here to act as your support staff every step of the way. We can help you plan your trip or apply for further studies in Japan. Or if you need extra help as you're learning with Aitas, we are here to give you individual attention.
Japanese Is Our Specialty
At Aitas, the only language we teach is Japanese. Our school's courses are highly specialized and we dedicate all of our efforts to the instruction of the Japanese language, and to various teachings of Japan's culture and traditional activities.
Before Aitas was born, our principal, Kyoko Saita, spent many years teaching the language of Japanese abroad. We have a wealth of experience behind us throughout numerous classroom settings and countless research activities. We have an acute understanding of the Japanese language and of how the human mind learns the characters, words and proper sentence structures. Each of our lesson plans is focused and well planned to ensure that every student's mind is absorbing the information accurately.
Adult Classes Taught in Positive Atmosphere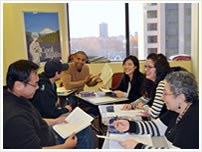 We offer professional Japanese language instruction to students who are 21 years of age and older. The average student's age ranges from the late 20s to mid 30s, with students as young as 21 and as old as their late 40s. By teaching to adult learners exclusively, we aim to create a solid connection between all students so that they may motivate and help one another to learn, practice and advance their Japanese communication skills at a fast pace.
Full Immersion For Efficient Learning
We use the Aitas Immersion Teaching Method, which offers students easy‐to‐follow lessons in the Japanese language. At Aitas, no matter what level of learner you are – even if you are in a first‐time beginner class – the only language spoken is Japanese. Our lessons are carefully planned and clearly structured for students to grasp what is being taught even though the language is foreign. Our approach is astutely calculated to avoid guessing from any students.
We use lots of imagery, diagrams, and colour coding. Every student in a full immersion class listens and speaks in Japanese, and therefore develops the most important skill in language learning: "thinking in Japanese".
Small Classes Allow For More Interaction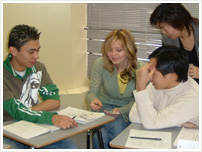 With the belief that the more our students actively interact, the faster they'll learn, we structure our classes with an average of 3 to 6 students. The maximum number of people in each class at any given time is 8. This class size gives the instructor the ability to promote positive interaction between students on a regular basis. Should any student need individual attention, the small class size permits this.
Highly Motivated Classmates Help One Another
Characteristically speaking, Aitas students are enthusiastic and highly motivated to learn. They study hard, participate in class, and excel quickly. This dynamic in the classroom creates a positive energy that makes for an excellent learning environment. Classmates cooperate with one another and help each other succeed as a team.
As one of our students, you'll have the opportunity to meet other people with common interests and similar reasons for learning the language. You can share experiences and offer each other helpful information that will only further advance your learning.
Convenient Location and Positive Study Environment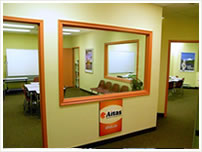 Near Yorkville and university districts, Aitas Japanese Language School is located at Bloor and Avenue Road. Our location is just a short walking distance from the TTC subway stations located at the Museum, St. George Street, or Bay Street.
Our facility is well kept, spacious and welcoming. Our classrooms are well organized and properly laid out to ensure the most productive study experiences for all students.
Accommodating Make‐Up Lesson System
Aitas courses run with one lesson per week, making it easy for you to fit us into your busy schedule. Although missing class is not recommended, if for some unexpected reason you cannot make it one week, you can inform us of your absence and we will not only tell you what you'll be missing and give you your homework, but will also schedule a make‐up class for you. In an effort to better accommodate you as our student, we offer one‐on‐one, hour‐long make‐up sessions with one of our teachers so that you can quickly catch up on what you missed before the next class. We support your language study at Aitas in every way we can.
Writing: The Importance of Outputting Practice
At Aitas we believe that the more you output, the faster you'll learn Japanese. By output, we mean writing and speaking. We encourage our students to write in a personal diary as often as possible, and we hand out essay assignments regularly. Each day you write, you will use the new grammar and vocabulary you've learned. This output training will help you expand your Japanese communication skills quickly.
Tuition Tax Credit Eligibility
Aitas Japanese Language School is certified as an educational institution approved by the Minister of Human Resources and Social Development in Canada. (List of Certified Institutions)
This certification enables us to issue tuition tax credit receipts. Some conditions will apply. For more details, visit our FAQs.
Student Privileges
Aitas shows its students support. Once you become a student with us, we offer many attractive privileges that further enhance your learning experience. Click here to find out more.
Flexible Payments For Your Convenience
At Aitas we do all we can to cater to the diverse needs of our students, right down to our payment methods. You can make payments to Aitas by cheque, cash, Interac (debit card), credit card (Visa and Master Card), money order, online transfer or bank transfer.
Interesting Activities Offered Exclusively to Our Aitas Students
Language Exchange Club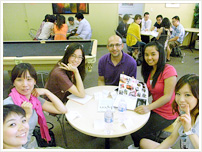 Level 2 learners and up can participate in the Japanese Language Exchange Club. This is a club where you can practice your communication skills by mingling with native Japanese speakers and immersing yourself within the culture. The Language Exchange Club takes place once a week or bi-week and allows you to experience the pleasure of communicating in Japanese without fear or hesitation.
This video shows you a typical day in the club! We also urge you to read comments from our students who have participated in the club: Students' Comments.
Cool Japan Night
You will discover what makes Japan cool! Cool Japan is a television show that illustrates the quickly changing Japanese culture and how it is perceived by the international community that have recently made Japan their home.
Culture Class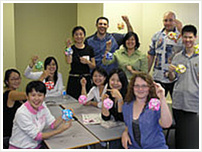 Aitas provides you with hands‐on cultural experiences such as Calligraphy (Shodou) and paper folding (Origami). This is a wonderful opportunity for you to experience other forms of the Japanese culture, over and above the Japanese language. This class is held at the end of every term. Click here to learn more about it!
A Variety of Courses For Different Study Purposes
Regular Group Courses
Our regular group courses have 9 levels encompassing entry, elementary, beginner and intermediate learning levels. Here, students learn all communication skills of the Japanese language: reading, writing and speaking.
Private Lessons
We will customize our lesson plans to suit your individual ability. You will experience teaching that has been specifically designed for only you. We offer private lessons to students who have reached an upper‐beginner to intermediate level.
JLPT Preparation Class
This class is for students who want to take the official Japanese Language Proficiency Test. We offer a two‐month preparatory course for JLPT N5 & N4 starting in the month of September every year, with course registration taking place in July. The JLPT in Canada takes place in December. Canadian testing centers are in Toronto, Vancouver and Edmonton.
Kanji Class
Here, students learn Kanji characters. Kanji are the Chinese characters that are used in the modern Japanese logographic writing. Many learners find the characters to be intimidating, tricky to memorize, and easy to forget. But, Kanji characters signify meaning. If you learn the meaning and rules of Kanji, then it becomes very interesting, fun and easy.