GREETINGS FROM YOUR PRINCIPAL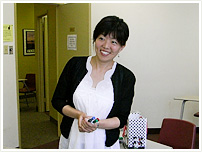 My Inspiration
Hello, and thank you for visiting our website. My name is Kyoko Saita, and I am the principal of Aitas Japanese Immersion School in Toronto. My love for teaching combined with my diverse past experiences is what drove me to the Aitas concept. I wanted to open a Japanese language school where students could enjoy learning and actually look forward to attending class. Finally in the fall of 2003, Aitas Japanese Immersion School was launched. In each and every class offered at Aitas, we use a cheerful, friendly and motivating teaching method. Our students reach their goals in a learning environment that fosters success from the ground up.
My Experience
I have been teaching Japanese at elementary schools, junior high schools, high schools, and language institutions for adults since 1994. My past teaching opportunities in Japan, Australia and England have given me a wealth of international experience. Beyond the schoolyard, I've also visited numerous businesses and large corporations to teach Japanese to their employees. My experience is what has given me the ability to open Aitas, and for that I am very grateful as I work to continuously improve our programs each year.
JAPANESE INSTRUCTORS
Our Number One Goal: That our students enjoy studying Japanese as much as we enjoy teaching it!
We aim to increase Canadians' interest in the Japanese language and culture, and teach them the value of Japanese communications in both their personal and business lives.
OUR FUTURE MISSION AND PAST EVENTS
Aitas Japanese Immersion School strives to grow as a business through continual improvements in its course materials and teaching methods. Since 2003, we have taken pride in the fact that we are a school where students advance their Japanese skills in ways that are fun. In an effort to further benefit each of our students, we are constantly educating ourselves so that we can enhance our schooling system and create an optimal learning experience.