Why Study Japanese?
Vol. 6 - Marilyn Edo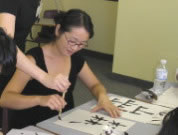 I
'm taking Japanese lessons because I feel bad that I'm Japanese but can't speak the language! I used to speak it when I was very little, but I have completely forgotten it now. My mom did try to put me into Japanese classes when I was younger, but of course, I had no interest then! Anyway, my grandparents, and my aunt, uncle and cousins are all in Japan. I miss them a lot, and would love to actually talk to them!

So hopefully through AITAS I will become fluent enough that I can go to Japan, see my family, and actually have some sort of conversation with them! It seems more important to me now to learn about my culture and my roots that it did when I was younger. So that is why I' m here at AITAS studying Japanese!