Vol. 3 - Business Trip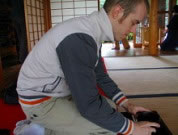 Name:
Colin Moock
Area of Residence:
Tokyo, Japan
Useful Link:
METROPOLIS - Japan's No.1 English Magazine
Tokyo is very clean, fun, polite, efficient, and wonderful. There's an endless amount of things to do and see, but it is quite expensive! It is a modern cosmopolitan place. If you already live in a big city like toronto, you'll feel right at home.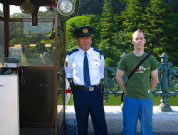 My host company is very nice and the people are very kind. Tokyo is SOOO clean!!! No garbage at all on the streets. We love it! I also got lost because I wrote down the wrong subway station for work, and a man walked me to the correct stop and telephoned my colleague to make sure everything was correct! We have had yakitori and soba and so many delicious foods. I can't even remember the names of :)everything. I learned from class is sooo helpful!! I can have basic conversations! I even bought a new digital camera using my Japanese.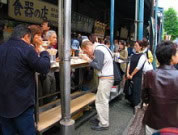 The weather here has been crazy! We had an earthquake (5.7 at the source) the second night we were here, and then a typhoon for the last three days. My weak canadian umbrella broke under the power of this Japanese rain! Quite amazing. The temperature is warm but mai nichi, ame desu! tenki warui ne?
Q1: Location where you stay.
A1: Azabu-juban, Tokyo
Q2: Reasons to begin studying Japanese.
A2: To be able to communicate while in Japan.
Q3: Is there anything that you should have done before go to Japan?
A3: I would like to have studied Japanese longer. I think 6 months of classes would be good. I could only take 3 months of classes before I left.
Q4: What are the best things you have did before you left?
A4:
1) Studied Japanese.
2) Bought a good digital camera.
3) Bought good shoes for walking everywhere.
4) Arrived with a travel umbrella. (It was raining when we landed!)
Q5: Suggestion to students who is planning to go to Japan!
A5:
1) Definitely practise katakana...signs use it more than hiragana.
2) Practise the Japanese you would need to go to a restaurant (ordering, paying, etc).
3) Try to make a Japanese friend while here or even better, beforehand via the internet...it helps a lot to practice Japanese with a native Japanese speaker...find one that wants to practise English too and you'll both have lots of fun.
Q6: Anything what you want to write!
A6: Thank you so much to AITAS Japanese Language School. They gave me the best preparation I could have hoped for... everything I learned at school is *incredibly* useful!