Vol. 9 - The JET Program

Name:
Francis Le
Area of Residence:
Anan, Tokushima
Useful Link:
The JET program
,
Awa Odori Festival
,
Anan City website
Hi,
Today I'll explain about my situation in Japan and the experience getting there.
I've enrolled with a company called the JET Programme. JET is an acronym for Japanese Exchange and Teaching. This company is basically the bridge between Japan and other English speaking countries. The job position called ALT which stands for Assistant Language Teacher requires working alongside with another Japanese native English teacher in Jr. High and High schools.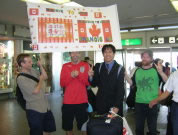 On the morning of August 5th, I was on my way to Japan via Northwest Airlines. I'm sad to say, if you ever go traveling, don't ever go with Northwest Airlines. It was such a long and unpleasant experience for me. The service was terrible, the flight attendants were quite rude and impatient. I also heard that some ALTs have lost their luggage. I can imagine it being such a terrible experience to start in a foreign world with nothing but your carry-on.
I've spoken to a lot of other ALTs about Northwest and they all agreed with me. I wrote complaints to the JET Programme regarding this and I just hope they won't send the next new ALTs through that same airline company. I'm sorry to rant on like that, remembering that experience upsets me a bit but it was just a bad start.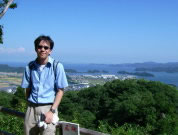 Anyway, the real excitement began when I finally arrived to Narita airport, which is a man-made island for international flights. It was a 3 hour bus ride to the Hotel where I stayed at in Tokyo.
I remember the first night at the hotel, I was so exhausted. After the shower, I felt a little more awake so I decided to go with a friend to a nearby restaurant for dinner. Afterwards, I was a bit more energized; I decided to walk around a bit and I find myself in the middle of Shinjuku.

I must say, I became fully awake and excited walking around. It was so lively; there were so many people and so many things to see (so much more than in Toronto). I got lost and it took awhile to figure out how to get back to the hotel lol.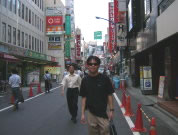 I stayed in Tokyo for 3 days. In those 3 days, I had orientation seminars for school teachings and preparations for the life experience in Japan. On the 3rd day, I was on my way to my placement. Attached is a map of Japan where I can illustrate where exactly I'm located.
Japan is basically divided by 4 main islands as I indicate on the map. I'm located on an island called Shikoku. Japan is divided by 47 prefectures; Shikoku has only 4 and I'm in the Tokushima prefecture.


From here on, it gets a bit more complicated to explain. The attached map of Tokushima is the only decent map I can produce.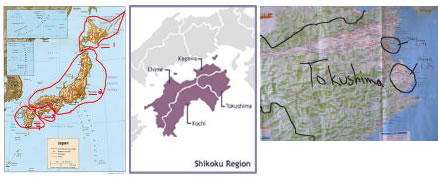 Finally, one thing I definitely won't forget about my arrival to my placement is the heat I endured during that summer time. I remember it was around 35 degrees when I arrived. The attached picture shows my welcome by the other ALTs in Anan, noticed I'm the only one wearing a suit. I wanted to give a good impression lol.
P. S. Sorry for the length of this e-mail but thank you for reading this far.
Also, for those who have ever thought of coming to Japan to teach, my advice is DO IT. It'll be an experience of a lifetime, not only will you have a good time, you'll have something to write on your resume as a representative ambassador to Canada with teaching experiences and a personal new perspective on life.

Until then,

Francis